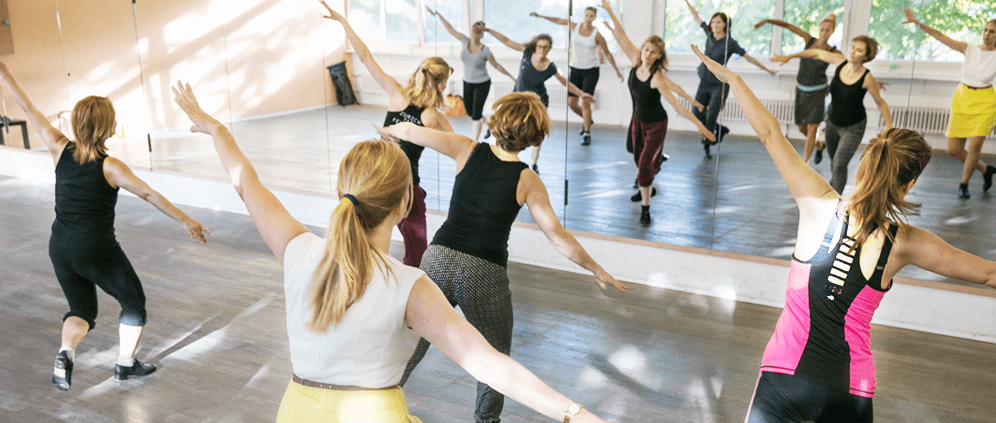 Tap
Tap dance developed in the 19th century in the United States and is now known all over the world. Rhythmic sounds are produced with two metal plates which are attached to the front and rear of the shoes. All kinds of music is used to tap dance to. The «Hoofers» were the first idols, such as The Nicholas Brothers, Bunny Briggs, The Condos Brothers, Arthur Duncan, Jimmy Slide, Dianne Walker. Later, Fred Astaire, Gene Kelly. Gregory Hines gave Tap dance new life in the 80s and Savion Glover led it to the present time. Backstage Studio is proud to regurarly invite many of today's greatest tap dancers as guest lecturers.
Levels and experience
Find and choose your level. We recommend the following tap dance experience:
Introductory course (I)
No previous knowledge
Beginner (B)
Introdcutory course completed
Beginner–Intermediate (B-I)
1-2 years
Intermediate (I)
approx. 3 years
Intermediate–Advanced (I-A)
4-5 years
Advanced (A)
6 or more years
Age Group
Tap courses are suitable for the young and old. Depending on your level and your teacher, you can select a course that is more or less physically intense. For Seniors we offer specifically structured courses. For children (from 4 years) and teens (from 12 years) we offer special courses.
Trial lesson
A trial lesson is anytime possible free of charge. Please check our «FAQ» for further information.
Fees
The courses are paid per trimester. The exact price is listed in the detailled view of every course. It is possible to book single lessons.
Current introductory course
The current tap introductory course from 2 May - 11 July 2022 (without 6 June), Mondays 18.30 - 19.30 h, with Andrea is fully booked.
Next introductory course
The next tap introductory course will take place from 22 August - 24 October 2022 with Regine. Mondays 19.00 - 20.00 h, 10 lessons CHF 210.-/ with student ID CHF 190.-. Get to know the first tap dance steps, cool beats and rhythms. If you are interested please send us an E-Mail.
Courses
Week of 20 — 26 June 2022
Monday, 20 June 2022
Tuesday, 21 June 2022
Wednesday, 22 June 2022
Thursday, 23 June 2022
Friday, 24 June 2022
Saturday, 25 June 2022